It would seem that bento is just a lunch that you can take with you, right? No. A bento is a dinner (or any other meal) that looks equally attractive to both a tooth and an eye — like everything else in Japanese cuisine.
If you want both you and your family to look forward to your lunch break, try to cook something special – let the ingredients be quite simple, but with skillful serving, the simplest dish becomes a work of art. Especially if it is made with a soul.
---
Popular Bento Food
Rice is one of the main ingredients. Even the most seemingly ordinary rice can be cooked in many ways. For the Japanese, the following options are considered traditional:
Hakumai – that we all know. Plain white rice without additives.
Genmai – more exotic brown rice.
Sekihan – added red beans.
Zakkokumai – mixed with seeds and grains.
Noriben – as we saw in our article on the history of bento – the nori is added here.
Wakame gohan – seaweed.
Umeboshi (or 梅干, or ume – dried Japanese plums) – literally salted and sour apricot. Yellow or greenish-yellow, the taste is strongly sour-salty. Very useful if eating before a meal. The Japanese themselves consider it indispensable in diseases of the heart, throat and with banal fatigue.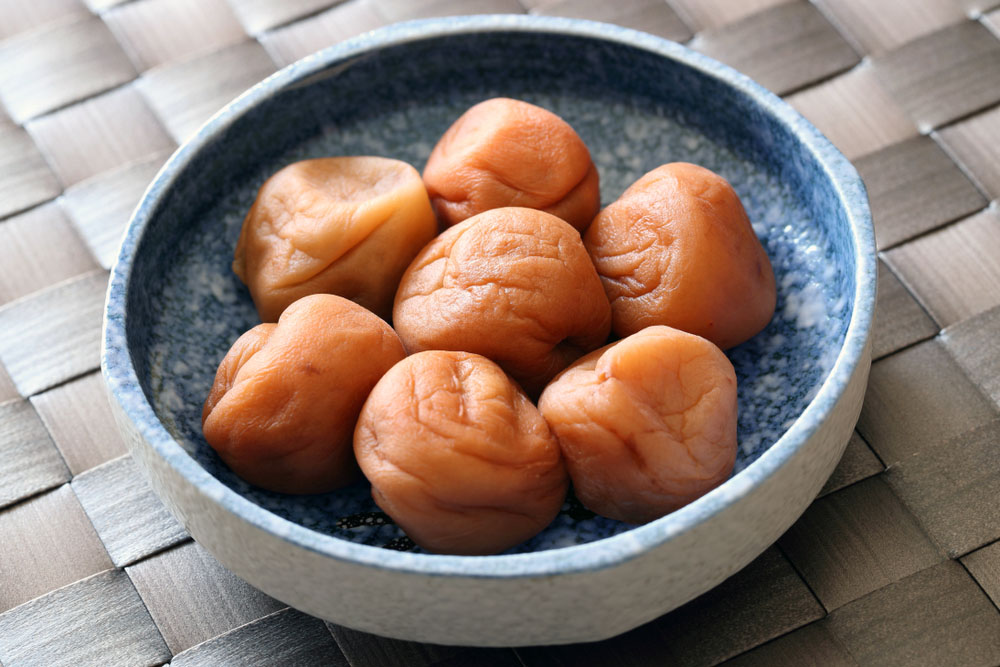 Fresh plums extracted from the brine are called "karikari ume" or "umezuke" and are often used simply as a snack. They retain a dense, crunchy texture and a light, fruity flavor, but they are stored outside the brine for a short time. In the past, when vacuum packaging and refrigerators were unavailable, for long-term storage, umeboshi dried in the sun, acquiring a characteristic wrinkled appearance, and before use, they were blanched in boiling water or boiled for a short time for softening.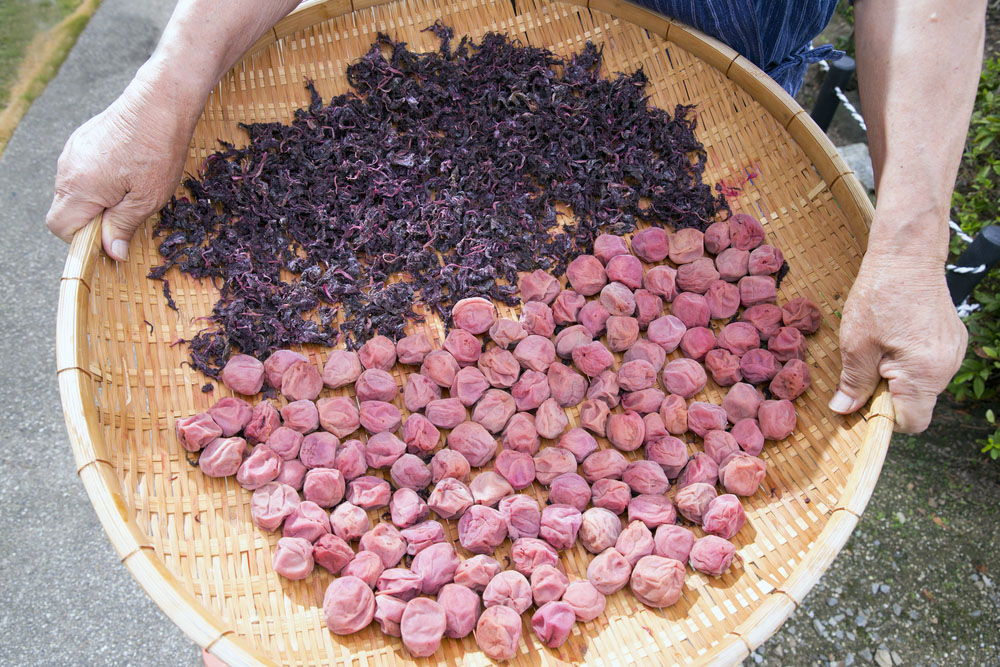 Salads – add seasonal vegetables and salad.
Tamagoyaki – Japanese rolled omelet with a characteristic sweetish taste. Used as a side dish or breakfast. For cooking use eggs, nori, daikon radish, soy sauce.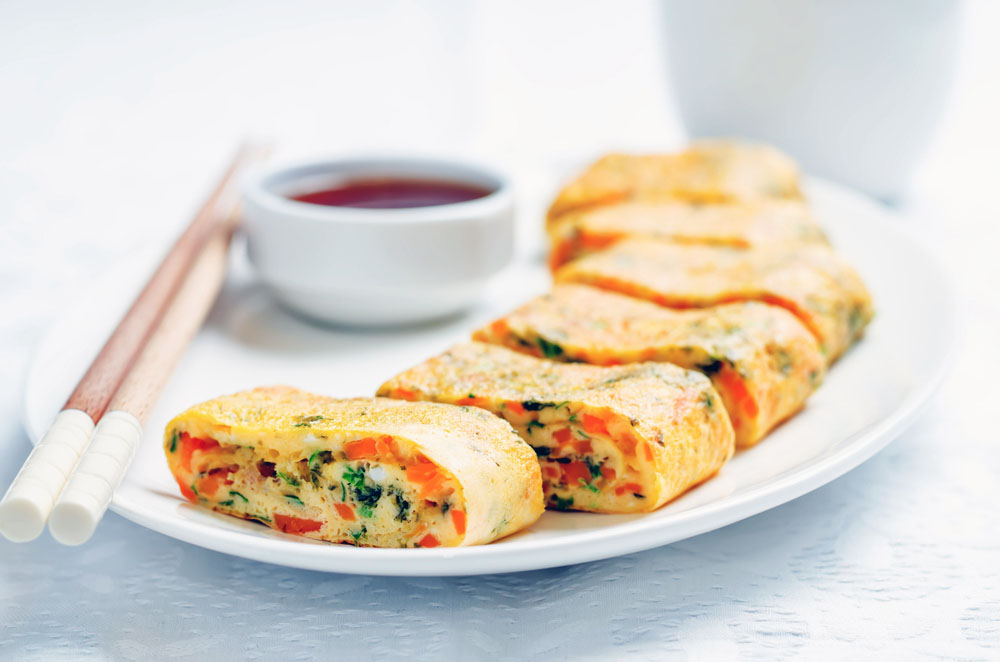 Agemono – deep-fried food. Usually fried chicken, fish (marinated separately), octopus, pork and other meats, vegetables, tofu.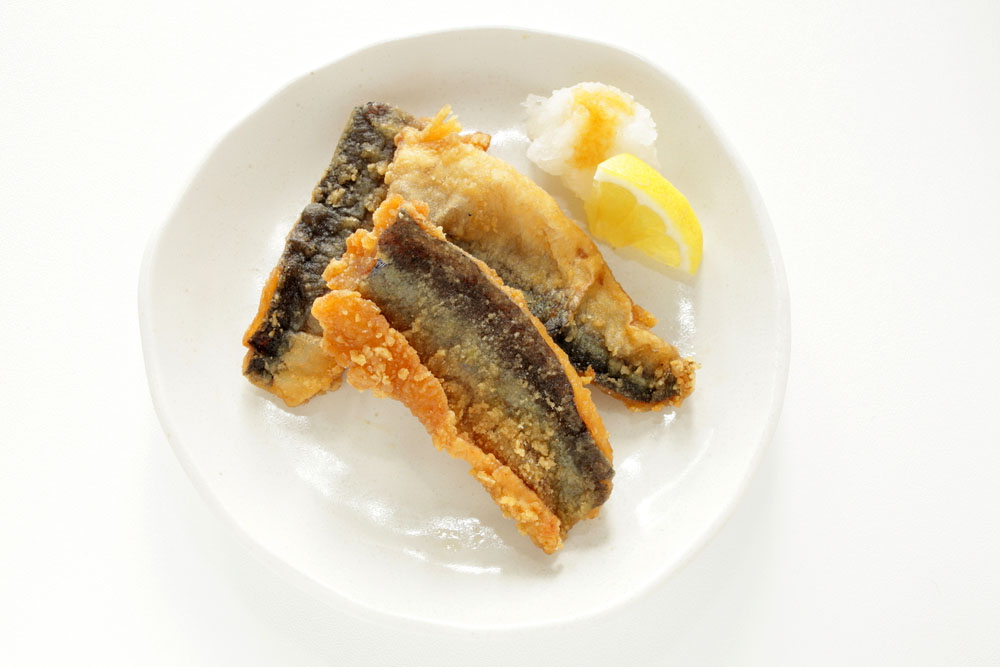 Gyudon – literally, a plate of beef. Usually, it is stewed with onion and soy sauce beef which is placed on top of the rice. Sometimes with the addition of raw eggs.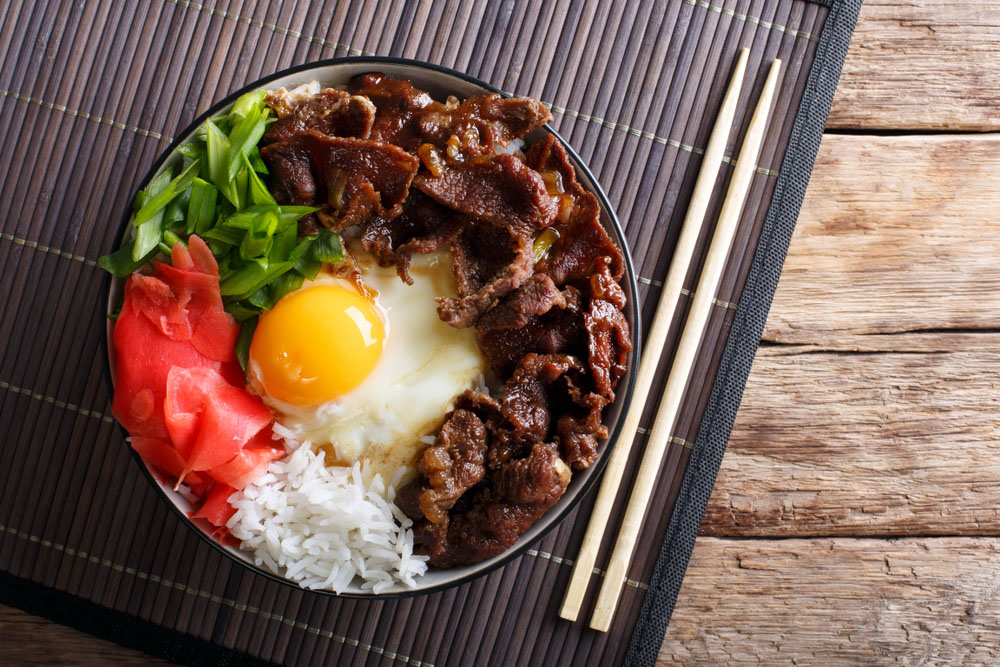 Sushi is a well-known Japanese dish consisting of a ball of rice on which a piece of raw fish is put.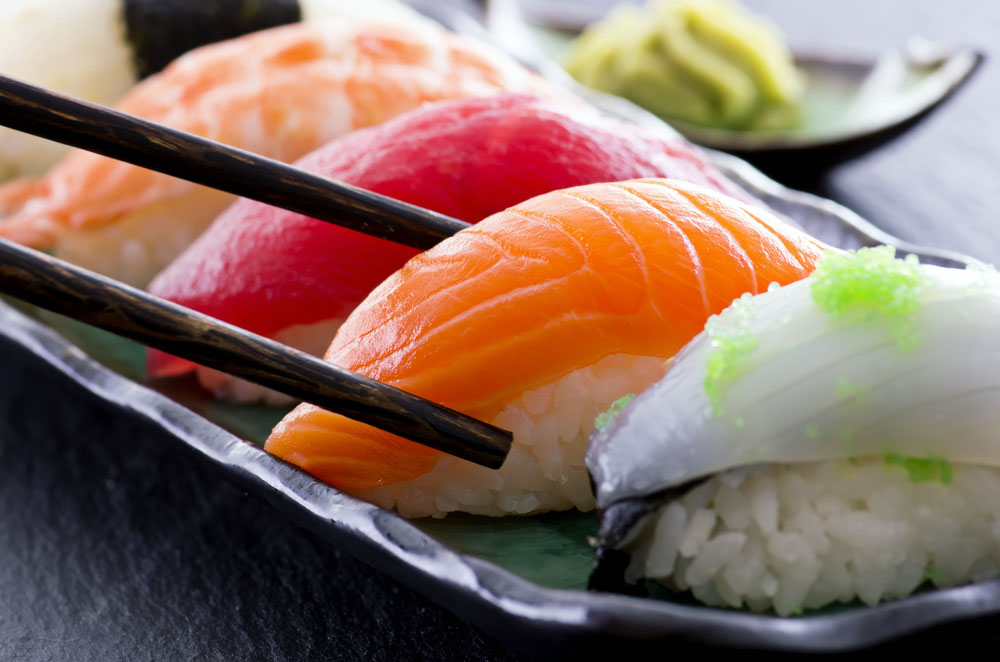 You can read a more extended list of Japanese cuisine on Wikipedia.
---
Video about art of Bento Box Creation:
Making a Bento Box
1. Purchase a box for bento with compartments for various products. Our store offers a wide selection of bento boxes. Being in Asia, you can buy such a container, but keep in mind that the compartments for snacks in these countries are made less than you possibly would like.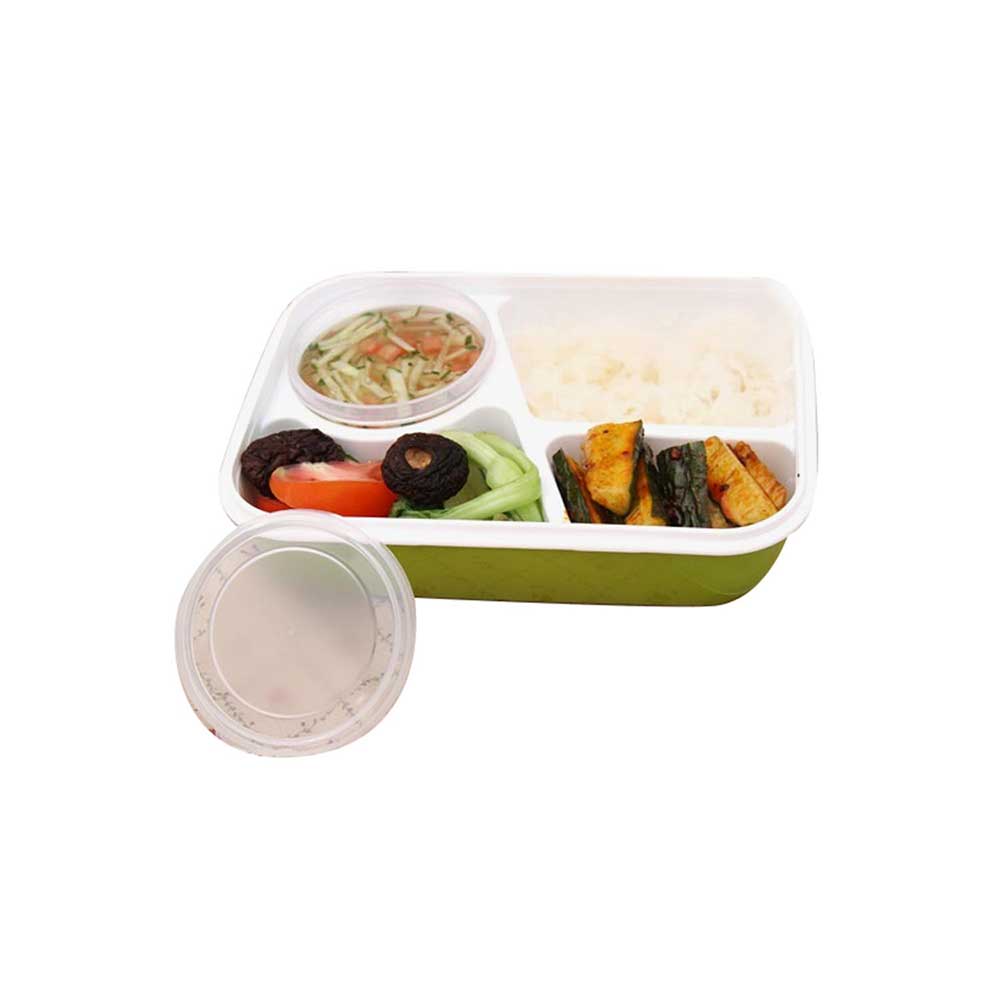 If there is no special box, feel free to improvise: use to make compartments of strips of carrot or crackers. It is also possible to insert several small ones into one large box so that the ingredients do not mix.
You can also buy portable cutlery (chopsticks or a fork, a knife and a spoon). As a rule, they are sold in plastic boxes, convenient for transportation. Just think about the bento bag, in which you can carry many containers at the same time, for example for a large company.
2. Divide the meal proportionally. In the preparation of bento usually use a proportion of 4:3:2:1, i.e. for 4 parts of rice there are 3 parts of a side dish, 2 parts of vegetables and 1 part of pickled vegetables or dessert. You can also use the simplified version of 1:1 when 1 part of rice is used for 1 part of the side dish. And in the side dish meat and vegetables, in turn, make up a 1:2 ratio. And of course, if it is more convenient for you, you can use your own proportion of dishes, most importantly, remember one thing – the goal of bento is a balanced diet.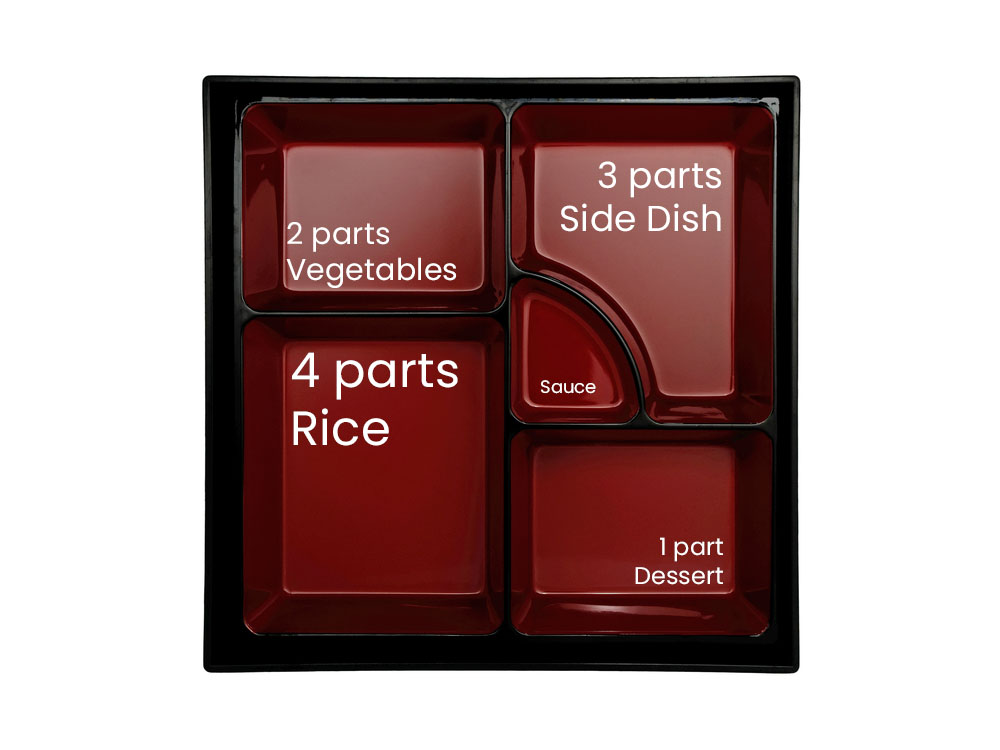 As an alternative to rice – Sushi, Inari-Sushi, Onigiri, and you can experiment with different varieties of rice or if you want, even add pasta.
The main source of protein should be a side dish, as which can be used beef, chicken, fish or pork – fried, boiled or any other form. If you are cooking a vegetarian bento, you can put tofu or beans.
Chopped cabbage or other vegetables are good for a snack.
3. Choose products of bright and saturated colors. The more bold and bright colors in your bento, the more you want to eat it! White rice, hard-boiled eggs, and cheese add bento nice variety of colors, especially coupled with bright orange, red and green products.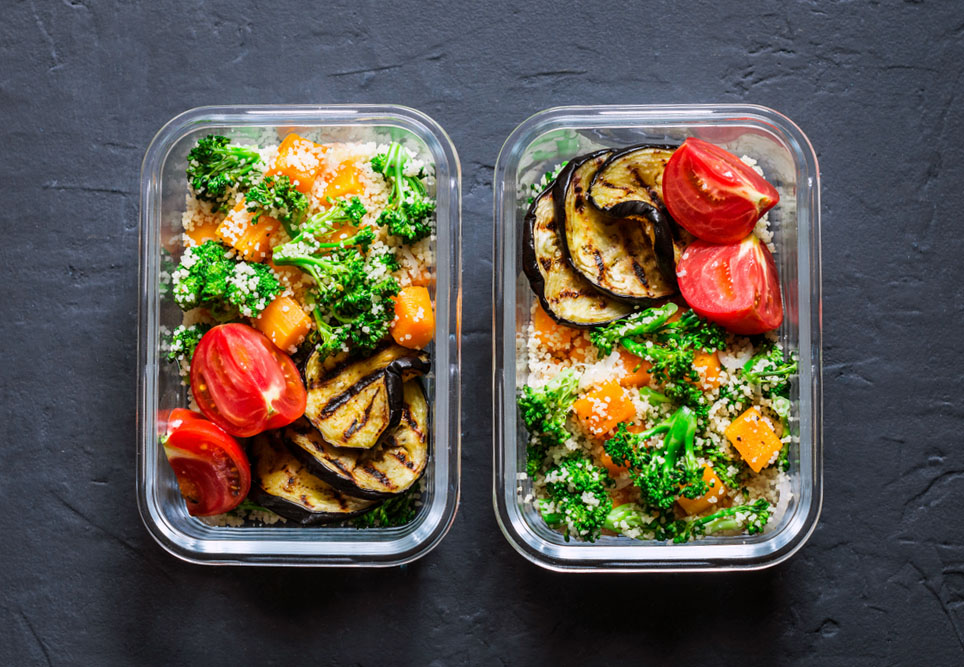 4. Pack food strictly in order, especially if your box has no built-in compartments. Fulfilling this simple rule will save your lunch from mixing inside the box while you are driving to work or taking your child to school. The first thing to do is, of course, rice. Then add those products that do not change their shape at relatively low pressure – for example, pieces of chicken. Next – potato salad or chopped vegetables, and last but not least add small and strong ingredients – for example, cherry tomatoes – with which you can fill the gaps between the containers.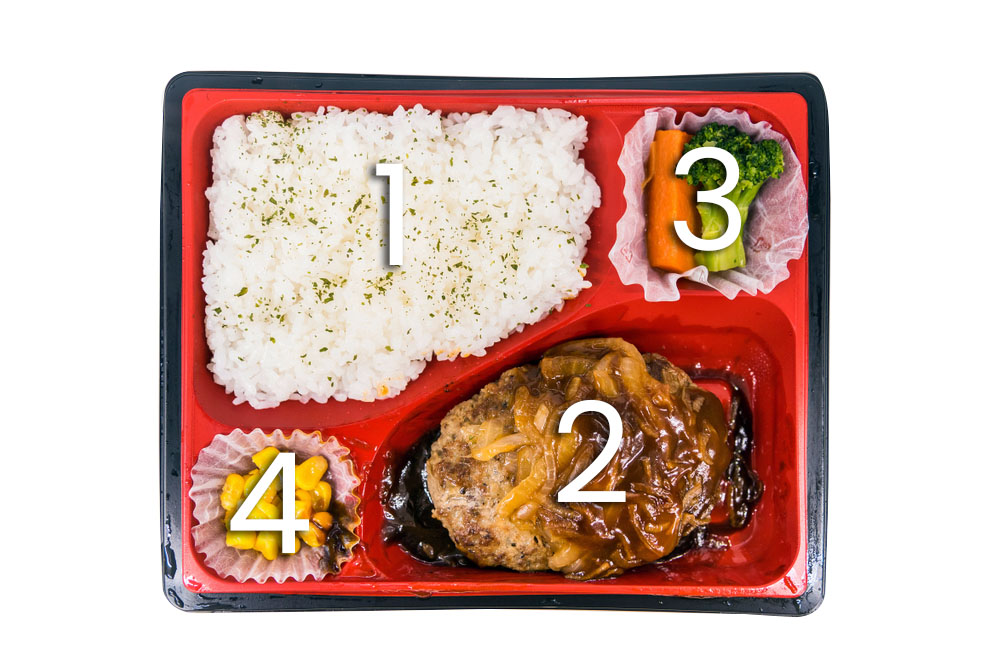 5. Create a bento pattern using seasonal seasonings or products. To do this, you can use ready-made stencils or invent something of your own.
Clearly define the boundaries of the pattern. Different colors, structures, and shapes of products may be close, but similar or almost the same it is better to distinguish. Do not allow flavors to mix, i.e. do not put, for example, fried rice next to cookies.
Create animal muzzles or other patterns from products. Two halves of a boiled egg with a dot of red pepper in the middle will be excellent eyes.
Add seasonal seasonings and garnish to the center of the dish.
Cut fruit, vegetables, or cheese in the shape of a star, heart, or crystals.
Place sauces or snacks, which cannot be put with all other products, in separate closed containers. In particular, such containers can be purchased with a bento in our online store.
---
Bento Cooking Tips
Start with a simple bento and move on to more complex options gradually. If you try to do something complicated on the first try, you may be disappointed. It is unlikely that it will be possible to master this art the first time.
Set aside time for cooking. Remember, it is impossible to hurry here, and it is time and effort make the bento so special and tasty.
Adhering to a certain ratio of products can help lose excess weight, because box sizes will prevent the packaging of a large number of unnecessary products, leaving only the most necessary.
If rice is a key component of your box, perhaps, in this case, it makes sense to buy a rice cooker with a timer so that by the time the container is prepared the rice is ready. Why cannot cook it early in the morning? Because rice does not tolerate impatient and rush.
To add spicy rice, you can use homemade sets of spices (furikake) or buy ready-made in the store. With the help of spices on rice, you can lay out a pattern, for example, a heart. If you use ready-made stencils, you can lay out something more complicated.
For the design of onigiri and all bento in general, you can use nori or soy paper, which, by the way, comes in different colors. From nori as well as from vegetables, you can cut various figures to decorate food.
Fried vegetables or meat should be placed on the absorbent layer of chopped cabbage or rice – thus, the rice/cabbage will be soaked with juice, and the juice itself will not spread to other products.
Rice and any other hot ingredients cool before putting in the bento. Otherwise, condensation will accumulate inside the box, and all food may taste different.
---
And finally, a small farewell: do not forget about food poisoning and carefully prepare all the food for bento. Make sure that the bento is stored in a dry and cool place, and best of all store it in the refrigerator. Compliance with the storage conditions is particularly relevant for bento, which children take with them to school or for a picnic.