Lunch Boxes For Kids
If you're a parent, it's pretty important to have a healthy lunch box choice for our kids in various ways. As they are growing and learning fast, you should encourage your kid to sit and finish their meal before shifting their attention to other things. When they get used to this and make it a habit, it would be beneficial to them in the long run.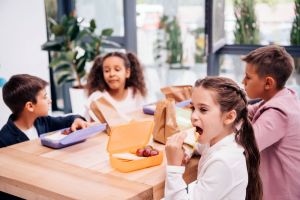 Lunch containers are essential and at the same time, crucial for kids between the ages of six to 12 years old. Considering their bodies are growing and developing, they need nutrition to keep them up all day and healthy all the time. Meal Storages are designed to store fruits, vegetables, and the main meal for their lunch.
Of course, the lunchbox is a tool to store your kid's food, but the most important thing of all is giving your baby a healthy lunch and snacks since they are very active in this stage of their development. The most ideal and healthy choice of food you can put inside a toddler lunch box is fresh fruit, vegetables, a combination of dairy, protein, and carbohydrate foods to promote a well-balanced diet.
As a parent, you should always focus on your child to eat healthy foods; however, their appetite will change over time which is always not easy to match. Like adults, over time, we change our appetite and our views about eating food. When we are under different circumstances, we do not know that lunchboxes play an important role in keeping kids' appetite up by keeping the food fresh, well-secured, and safe from any contaminants.
In this shop page, let us talk about lunchboxes, their properties and how important it is to our lives and how it plays a crucial role in a child's appetite and development.
Insulated Lunch Box for Kids
There are several types of lunchboxes available in the market that serves different purposes. One of the most common types is the insulated lunch boxes. Thermal lunchboxes serve as a mini refrigerator or a mini warmer for the kid's food. For example, if your boy has an orange juice for dinner and a cold meal, an insulated food container keeps it cold until lunchtime, and this also goes the same for keeping food warm. This is also the same as the thermal variation of this storage.
Pay your attention to the types of plastic in containers, the absence of BPA and other impurities in their composition. Also suitable environmentally friendly containers of straw.
Compartments Lunch Box
Setting a good example for your lunch can encourage your girl or boy to choose their food and prepare their dinner without a little help from yourself. They can make a list of food they want to pack for a weekly basis. Packing meal in their lunchboxes should not be boring and dragging for the juniors – it should be fun and yummy because this will affect their appetite. Try using the bento box so kids can enjoy because of its features where an entire meal is prepared in equal proportions. Bento boxes are designed to provide an equal proportion and section of the different types of food packed as a meal for the kid. This means, that the kids lunch box with compartments.
To buy a kids lunch box, you can visit our shop online. If you're still confused about where to buy kids lunch box, do not hesitate to move to our store page.